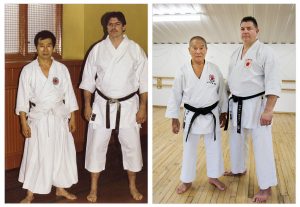 Over 50 years of study, practical application, and obsessive interest in the martial arts means Simon Oliver delivers some of the most Dynamic martial arts Seminars around.
Born in 1961 into a rare martial arts heritage both his father and grandfather were former Jujutsu and judo practitioners Simon Oliver started learning Jujutsu and judo at the tender age of six years to try and calm is boisterous nature. It was a chance experience that lead him into starting karate after seeing a demonstration at Alexander Palace in London by a group of senior Japanese Sensei; he pestered his father to find a dojo.
Simon was eventually introduced to karate by a student of the great Tatsuo Suzuki who was a friend of his father. Peter Bell provided private tuition in the Wado Ryu style, due to the age restriction on people starting karate during the late 1960's early 70's. Simon received his Shodan with the Wado Ryu before the family moved to Doncaster where he met Alan Rushby Sensei who was teaching the Shukokai (Shito Ryu) style.  It was during this time that Simon started to develop a keen interest in Kobujutsu (Old style weapons) and started training in various traditional weapons.
The most influential and certainly the Sensei that Simon in his own words "Dramatically redefined for me martial arts on all levels and gave me the tuition, direction, encouragement to research deeply without prejudice all fighting systems." was Terry O'Neill Sensei. The JKA Shotokan style was to become Simon's stable background under the guidance of Terry O'Neill Sensei.
During an extended visit to Japan in the late 1970's part of a student exchange program and funded by his parents Simon first trained with the great Yashiro Konishi, little did he know that this was going to shape is future direction many years later…..
Konishi Sensei's Shindo Jinen Ryu was very different from the other styles of karate Simon had experienced, with a strong influence of aikijutsu and even western boxing; it encouraged Simon to extensively research the history and foundations of Okinawan and Japanese martial arts.
On returning to the UK, Simon focused on the primary style of Shotokan remaining with the JKA while receiving instruction from Charles Mack one of the stalwarts of the early UK karate practitioners who had also been a very strong Judoka.
Simon established a base in Nottingham in the centre of the UK, with the famous ZANSHIN Dojo which has become the JKR-UK Hombu today. Terry O'Neill Sensei facilitated training with Kiyoshi Yamazaki Sensei a direct student of Konishi Sensei on several occasions and it was through this mutual friendship that eventually Simon would find a home permanently with the Ryobukai.
Although firmly committed to the Shotokan and embracing the extensive competitive elements that were popular during the 1980's and with some major success; Simon was still more interested in the real effectiveness of martial arts. His working life was taking him into areas where his skills to deal with violence had often had him questioning the regime he was following.
After several trips to Japan, Thailand and Indonesia Simon realised he needed to move on and started to change his training and teaching methods based his research and his comprehensive experience of several different fighting systems.
It wasn't until 2003 Simon left the JKA after the great Keinosuke Enoeda Sensei passed away with the blessing of his Sensei Terry O'Neill who remains close friends with. After a short period of soul searching Simon would leave the Shotokan for good and totally focus on developing the Ryobukai and Shindo Jinen Ryu style of martial arts in the UK.
Save
Save
Save
Save
Save
Save